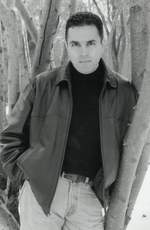 BSM:
Your anthology Bloodtype is a CDROM packed with fiction by various horror writers from Gerard Houarner to Greg Gifune plus it's beautifully presented. It has art, music, pictures, etc., and it's no wonder that it's a big seller. How did you come across the idea for this project?
ML:
Although the concept of Bloodtype was my idea, the project as a whole was a joint effort between myself and Brian A. Hopkins, who not only owns Lone Wolf Publications, but edited the Stoker Nominated anthology series, Extremes. I'd always wanted to edit a horror fiction anthology, but never pursued the desire to do so to any real extent. Brian and I are good friends, and when he decided to expand Lone Wolf Publications to other venues, using outside editorial direction, I pitched my concept of doing an antho of cutting edge horror stories that pushed the envelope, so to speak. Brian loved the idea, came up with the title Bloodtype, and I went to work. Nearly 300 submissions were read before I accepted fifteen stories. Additionally, there's lots of cool photo-rendered art from Ron Leming and Matt Lombard, and theme music by John Everson.
BSM:
Dregs of Society is your latest short story collection available from Prime Books and I hear it's been selling out fast. Not only does it include the original novelette The Smart Society, but has lots of other great work in it, too. Could you fill us in on what else it includes?
ML:
Unlike my first collection Demons, Freaks, and Other Abnormalities, released in 1999 by Delirium Books, which contained primarily supernatural horror stories, I decided to build the stories in Dregs of Society using mostly psychological themes. The title novelette The Smart Society, written especially for this volume, was a good way to start. Then, combing through the nearly 100 stories that I'd had published in the small press, I chose those tales that I felt would fit best together, utilizing a similar theme. The stories span my career, from my third-ever published story to material published just this year. There are fifteen stories in total, nearly 70,000 words of fiction. There's also amazing cover art from Ron Leming, who did the cover for Bloodtype. I'd also like to add that PRIME will be re-releasing the book in trade paperback in October. Also, I've just found out that Delirium Books will be re-releasing Demons, Freaks, and Other Abnormalities in trade paperback, also in October. Keep your eyes peeled to the Delirium website for info.
BSM:
The Golden Eyes Trilogy is a trio of short stories, the first of one which is called "Within The Darkness, Golden Eyes." And it appeared for the first time in a chapbook published by Jack Fisher of Flesh & Blood Press. Please tell us more about this trilogy and how it came into being.
ML:
Actually, the first story "Within The Darkness, Golden Eyes" first appeared in the now defunct zine Epitaph, which was edited by horror author Tom Piccirilli. I originally wrote it so I'd have something fresh and new to read at open mike night at WHC in Niagara Falls. Tom Picirilli saw me read and asked if I'd consider it for his magazine. Of course I said okay, and it was accepted. After that I discussed with him my ideas for a second story, which I wrote and sent off to Tom. He accepted "A Matter Of When" for Epitaph, but unfortunately the magazine folded before it saw print. In the meantime I had written the third installment titled "For The Infestation Of Maggots." I approached Jack Fisher of Flesh & Blood Magazine to see if he would be interested in printing the final two stories. He said yes, but felt it would be important to run the first tale again, and he suggested the chapbook. In the end, it all worked out very well, as the trilogy was very popular amongst Flesh & Blood readers. I'm very excited to see all three tales in print side by side in Dregs Of Society. Now I am working on my third novel entitled "Deep In The Darkness," which is based on the entire trilogy concept. For those unfamiliar with the stories, it is about a doctor being held captive by a race of demon-creatures living beneath the ground in his backyard. He is used by the creatures to treat their individuals before extinction sets in.
BSM:
Your debut novel Atmosphere is going to be published by Leisure Books which has published top-notch work by authors such as Ed Gorman, Richard Laymon, Hugh B. Cave, Douglass Clegg, and a host of others. Please tell us what Atmosphere is all about.
ML:
Pinch me! It feels like a dream to be associated alongside such great writers. And the list goes on. Leisure has some pretty amazing writers signed to their horror line, and I'm thrilled to be a part of it. Atmosphere is an urban horror story that takes place in Manhattan, and follows the investigation of a NYC detective as he unravels the mystery behind a series of grisly cult-like killings. Soon, he discovers that there is something truly bizarre taking place below the surface of the murders, and he unwittingly becomes personally involved to a point where his life is at stake. It's a real dark story, surreal at times, yet quite streamlined so that it's easy for the reader to become personally involved. I am very pleased to announce that Delirium Books will be releasing the novel this July, 2002, in a Limited Editiion format of 300 signed and numbered copies.
BSM:
The new novel you're working on is Sleepwalker. If you could, please tell us how far you are into it and what it's like.
ML:
Sleepwalker is done, and although similar in style to Atmosphere, it is a very different story. This is the story of a man who, because of his apparent sleepwalking, finds himself in a good deal of trouble he never asked for. Soon, he becomes so wrapped up in his dreams that he has trouble distinguishing between the waking world and the dream world. The characters from his dreams affect what happens in his waking world and eventually the two worlds merge. Of course, there is a logical explanation to everything that's happening, including all the murders going around. That's up to Officer Leonard Moldofsky to unravel. It's a much more complicated storyline than Atmosphere, and is also 50% longer. It came in at 465 pages, and took fourteen months to write. By the time this interview sees print, I should have a response from the Leisure Books editor.
BSM:
Being associate editor for Space & Time, you come across dozens of manuscripts and deal with writers every year. What do you look for the most when it comes to editing?
ML:
Please change dozens to hundreds. It's amazing how many submissions we get. Working for Space & Time is a bit different than playing the role of editor, like I did with Bloodtype. Here, I'm a first reader. I need to find the diamonds in the rough, so to speak. Since we only publish two issues a year, we have to be very selective. So, competition to get in our pages is fierce, but it makes it worthwhile for readers and writers alike, since we can brag about some of the finest pieces of speculative fiction from both new and experienced writers. So, once I find these great stories, they go on to Gerard Houarner, senior editor, who has the very difficult job of choosing the best of the best. What do I look for? Clean, professionally submitted manuscripts. Then, one helluva story that will keep me rivetted from page one to the end. Not an easy thing to do, since I have a very well trained eye (grins).
BSM:
And what's your editorial philosophy?
ML:
My philosophy is that if you don't have the time or energy to do it, then don't. There's a good deal of work involved, more than I think most prospective editors expect when taking on projects. You must be mentally prepared to confront the tasks that await. And then, I try my hardest to be professional. In doing so, I am usually rewarded with positive feedback from those I work with. It makes all the hard work worth it.
BSM:
Your work has appeared in a variety of places from The Year's Best Dark Fantasy and The Best of Horrorfind.com to Gord Rollo's anthology Unnatural Selection. What do you like the most about genre writing? What's the biggest turn on?
ML:
Well, of course, the biggest turn on is seeing your work in print, and although knowing that you can't please everyone all the time, you can be certain there's someone out there that read your story and said, "That was cool." Genre writing has been with me since I was a child, whether as a reader or a writer, and being able to escape into it, whether imagining yourself in the shoes of someone else's character or your own, is an electrifying experience. I write the type of material I would enjoy reading, and I hope others feel the same way.
BSM:
In a banquet filled with deep, dark chocolate of the richest horror, from dark fantasy to quiet horror, what would you want the most of?
ML:
Ah, with a buffet of styles in front of me, I'd take an equal portion of each. I have a vast collection of unread books on my bookshelf that typify every ilk of horror there is. Depending on my mood at the moment, I would choose a certain book, whether it be extreme horror, dark fantasy, or simply the latest Leisure Books release. Be rest assured though, on the next go around I'll pick something different to read. As for writing, I find myself trying to emulate the writers I admire, and I find that if I'm reading something intricate like Lovecraft, my current story might come out a little more gothic in tone. As well, if I'm caught up in something a bit more streamlined, say a Dean Koontz book, my stories will take on a bit of a modern tone. Like my readings, I like to vary my writing styles, and subconsciously my mind seems to pick up on the current reading. It's odd, but it's what inspires me.
BSM:
Who have been your mentors in life? Who do you admire the most?
ML:
The list goes on. When horror reading became a part of my life in my early teen years, I read King, Barker, Koontz, and McCammon. They made me want to write. Soon I began to delve into deeper pockets, and found Ramsey Campbell, Joe R. Lansdale, Jack Ketchum, Edward Lee, Peter Straub. Then I became friends with writers like Tom Piccirilli, Gerard Houarner, Brian A. Hopkins, Douglas Clegg, Mary Ann Mitchell, Greg F. Gifune, and many others who helped me hone my craft and gave me the incentive to keep on writing. Now, as I explore other genres, I find that there is so much more to learn. Right now my favorite writers are Arthur C. Clarke, Tad Williams, Jeffrey Deaver, Greg lles, Michael Connelly, and Simon Clark.
BSM:
Throughout your entire life what things do you think have influenced you the most to become a writer?
ML:
I remember being as young as five years old and reading true- life ghost stories from books I took out of the library, and then being scared to death because I thought poltergeists were in my room. Growing up I watched every possible monster movie I could, from classic cheesy 50's rampaging dinosaur flicks to all the true classics like Frankenstein and Dracula to every Godzilla movie ever made (I still love "Destroy All Monsters"). So, when I began to read, I realized that writing might be a fun way to find escapism in life. I was writing music reviews for a local music newspaper, and decided to try my hand at fiction. It took many years and lots of trial and error before I started getting it right.
BSM:
To end, what do you find the most fulfilling?
ML:
Being a part of the wonderful community of horror writing, making new friends along the way, and enjoying some of the success I've found. I never thought I'd make it this far, and to me, it's been incredibly fulfilling. I only hope I can do this for years.
copyrightt © 2002, Bobbi Sinha-Morey