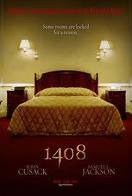 1408
(2007), Rated ?PG-13?
Starring John Cusack, Samuel L. Jackson, Mary McCormack, Jasmine Jessica Anthony
Directed by Mikael Hofstrom
Review by Nicholas Ozment
Rating (3.5/5):

Note that a classic, old-style building like the Dolphin does not have a thirteenth floor: floor 14 is, in fact, floor 13. And also note what 1+4+0+8 add up to. That's all a bit of Stephen King having some fun.
When he wrote the novella 1408 (in his recent collection Everything's Eventual), I think King wanted to write the scariest haunted room story that he, the modern master of horror, could possibly muster. He partly succeeded, and the movie--being a pretty faithful adaptation--partly succeeds as well. The best part of the movie is also the best part of the story, and that is, in both cases, the buildup. The rest is a bit of a letdown, but the suspense of the buildup is worth it.
We are immediately introduced to Mike Enslin, played perfectly by John Cusack, a writer who has given up novels to make a buck writing ghost-hunting guides. As a paranormal investigator, he's got all the gadgets and doo-dads for reading thermal prints and temperature fluxes and electromagnetic fields and such. He faithfully investigates the allegedly haunted rooms of every quaint bed-and-breakfast and hotel he stays in, but he doesn't really expect to find anything. He is a skeptic and, ever since his young daughter died, an atheist. Yet we get the impression there is some small place in his cynical head that hopes - craves - to find some proof that death is not the end.
This is a King story, so we know that Mike is going to get his wish in spades - if he survives it.
He receives a mysterious postcard tipping him off to room 1408 of the Dolphin, a ritzy old hotel in Manhattan. When he calls to inquire about the room, he gets a reception he is not accustomed to. Most of the hotel and B&B owners he deals with welcome the free publicity he brings, but the manager of the Dolphin declines: room 1408 is most definitely off-limits.
Mike's publisher calls in a lawyer, and a fancy legal maneuver gets Mike a booking. But when he arrives for his overnight stay, the hotel manager, Gerald Olin (Samuel L. Jackson), is waiting for him.
And this is the best part of the movie: the showdown between Olin, who uses every ploy he can think of to dissuade the intrepid investigator, and Mike, whose interest only grows more piqued. Olin goes through the litany of suicides, which Mike already knows from his research. But then Olin throws him a wringer: In your research, did you come across all the cases of guests who died of natural causes. Heart attacks, strokes. It brings the number to fifty-six. You can almost see Mike.s ears prick up. You know he.s thinking, Could this be the real deal? He's all the more anxious to get into the room, and the suspense for us, the audience, is palpable.
I love Olin's description of the once-a-month cleaning of the room (though the room is no longer rented out, hotel policy demands that the room be dusted, the sheets turned up (the ghosts aren't going to do it): the maids always go in pairs, with Olin himself waiting in the hall outside. We treat the room as if it were filled with poison gas. This generally works, except for the one maid who was only gone a few moments, got locked into the bathroom, and gouged her own eyes out. When they pulled her out, she was laughing hysterically.
This wonderfully tense conversation comprised something like thirty pages of the story, and it is great reading. It's also the best reason to see the movie. But of course, the anticipation such a scene builds up is going to be very difficult to live up to. Director Mikael Hafstrom isn't quite able to do it, though neither was King. The horrors the room throws at Mike are pretty generic, although the Carpenters song that keeps playing unexpectedly on the radio is a nice touch. Who knew We've Only Just Begun could induce chills?
When Cusack gets into the room, he becomes a one-man show, reacting to the ever-increasing intensity of the mind-benders the room throws at him, many of them dredged up from his own subconscious. It has its moments (the man in the window across the street is the best), and Cusack's acting is first rate in carrying it off. But there is more psychological tension than outright scares.
Some people have described 1408 as a bargain-basement version of The Shining instead of a haunted hotel, a haunted room. But like its predecessor, 1408 owes much to Shirley Jackson's classic 1959 novel The Haunting of Hill House. It is not, as Olin warns, just a phantom haunting room 1408. Shirley Jackson described Hill House as not sane. Here, another Jackson describes room 1408 as evil. They're both getting at the same thing. These places are not haunted by traditional ghosts; rather, like Hill House, like The Overlook, room 1408 is itself a kind of living entity that seems to psychically feed on guests unlucky enough to enter its belly.
It is refreshing to see a horror film that goes for spookiness rather than torture and grue to generate its frisson. I hope we'll see more like this, they're all too rare.


Edited by Dave - Mar-03-2015 at 7:40am