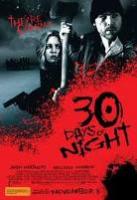 30 Days of Night
(2007)
Rated "R"
Starring Josh Hartnett, Melissa George, Danny Huston, Ben Foster
Directed by David Slade
Review by Nicholas Ozment
Rating: (2.5/5):

In David Slade's adaptation of Steve Niles' 2001 graphic novel, the northernmost town of the United States gets wiped off the map by foreigners. These visitors don't have passports and they don't have pulses.
Once a year the small town of Barrow, Alaska?eighty miles from any other settlement?is plunged into thirty days of darkness. Most of the townsfolk head for sunnier climes, leaving a skeleton population of 152. As one vampire observes later in the film, "We should have come here ages ago."
It should be noted that the vampire speaks this observation in a strange language that is a seeming mix of clicks and Klingon. The film helpfully provides us with subtitles whenever the vampires speak, which gives us a distinct advantage over the doomed inhabitants of Barrow, who only know that these newcomers sound funny, look funny, and have a funny way of not falling down dead when they get pumped full of buckshot.
These are not your suave Anne-Ricey vamps with stately canines. These are feral, bat-like creatures with mouths full of razorblades. They howl together like pack animals when one sights in for a kill, emitting piercing shrieks like banshees on PCP. The only one who seems to have any manners is the leader (Danny Huston), but since he considers the human race a plague, he exercises no gentlemanly conduct toward any mortal unlucky enough to cross paths.
These throat-rippers instill some new scares into the tired, old, done-to-death vampire card, much as
28 Days Later
rehabilitated zombies. They don't so much suck blood, leaving two tiny puncture wounds in the victim's neck, as tear the victim's neck open. When they feed, gyrating madly as they mutilate their lunch, it looks much more like a
28 Days
-style zombie attack than any previous portrayals of vampire-feeding. And for creatures who live on a diet of blood, they sure spill a lot of their food. I kept looking at the buckets of garish grue splattering the snow-blanketed town and thinking, "Unless they enjoy blood-flavored snow-cones, they're not really stocking up for winter."
A stranger comes to town, playing the Renfield role, ranting lunatic but fairly clich?d utterances like "Your Death is coming." He prepares the way, destroying all contact with the outside world (which entails slaughtering sled dogs and vandalizing a helicopter, and also making a bonfire of all the cell phones). It falls to Josh Hartnett, as stoic Sheriff Eben Oleson, and his estranged wife and fire marshal Stella (Melissa George) to gather the eight or so survivors and lead them from hiding place to hiding place, holing up a week here, ten days there, in hopes of surviving until daylight (which has never seemed so far away). Each time they must make a foray out, you just know their numbers are going to dwindle by one or two, in a sort of horror-movie mathematical formula.
When the vampires attack, they move with lightning speed, leaping down from buildings and dragging a victim off by the ankle almost faster than the eye can track. They can also be cunning: for instance, sending out a shell-shocked survivor to stumble down the street crying for help, in hopes of drawing out the survivors while the hunters lurk on the rooftops above the bait.
Thanks to the subtitles, we also learn that the vampire leader is somewhat philosophical, albeit spouting a twisted ubervamp philosophy, the sort Nietzsche might have fostered had he been "turned." He speaks aphorisms of Evil to his band, like "Everything that can be broken, must be broken." When one of the human survivors sacrifices his own life to save the others, Papa Vamp observes, "When a man encounters what he cannot destroy, he destroys himself instead. Humanity. What a plague." And when it becomes apparent that some residents of Barrow just might survive to tell their story, he warns the other vamps, "We have worked for centuries to convince them we are a bad dream. We cannot let them suspect otherwise. Destroy them all."
And there's plenty of destruction, most memorably the aerial view of the first full-scale attack on the town as people flee the chaos, ineffectually popping off guns while packs of vampires take down their kills and black puddles of blood spread in grim patterns on the snow.
The humans occasionally find innovative ways to fight back. No wooden stakes here?the only wood to be found is in some of the actors' performances (heh heh). These vampires are only harmed by decapitation or other traumatic body damage--being sawed in half by a trench-cutter seems to work just fine. Oh, and, of course, sunlight.
But the more thoughtful moviegoer will wonder, for instance, what the vampires are doing during the lulls of several days between attacks. They do have thirty days to kill (heh heh). There are a lot of them, and the town is pretty small?a few thorough, coordinated sweeps would, you'd think, turn up any survivors. There are one or two other questions raised that are never addressed, but I suspect this can be attributed to cuts in the adaptation from graphic novel to film.
I spent the first few paragraphs of this review describing the vampires: That's because they're the movie's main draw. The plot--a handful of survivors band together to survive, isolated from the outside world, hunted down one by one--has been done better many times before, most notably in another snowbound pic, John Carpenter's
The Thing
.
The fact that films like
Dawn of the Dead
(both original and remake),
28 Days Later
, and
The Thing
exist to demonstrate how well this premise can be done, is why I only give Slade's new entry into the genre 2 stars. It's a fun one to catch if you haven't seen the other films just mentioned. Otherwise, check those out first to see just how high the bar has been set.


Edited by Dave - Mar-03-2015 at 7:41am