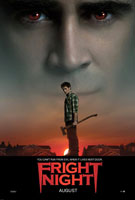 Fright Night (2011), Rated PG-13
106 minutes
Starring Anton Yelchin, Colin Farrell, Toni Collette, David Tennant, Imogen Poots, Christopher Mintz-Plasse
Directed by Craig Gillespie
Reviewed by Dave Felts
Rating: (4/5)

Back when I was in college, VCRs had only been around a few years. Towns that had cable TV were still fairly rare, but one of my roommates had it at home. He'd go home for the occasional weekend and return with movies he taped off HBO. My parents had given me their old VCR (a top loading one--I can still picture it) and another roomie provided the TV. Seemed as though there was ALWAYS some movie playing: The Natural, The Sure Thing, Rocky IV, My Bloody Valentine, Cocoon... and dozens of others, including Fright Night.
These weren't necessarily good movies, but they are defining of the era for me, and thinking about them rekindles some nostalgia for the times when I had nothing more to do than sit around, drink a few beers, and re-watch a movie for the umpteenth time. So it was with both a pang of apprehension and a twinge of excitement that I popped in the DVD of Fright Night (2011) for viewing, graciously accompanied by my 17 year old daughter.
Set in Las Vegas, the new Fright Night keeps the bones of the original, but dresses them up in some new flesh. Charlie Brewster (Anton Yelchin), is a former nerd gone popular, now dating one of the school hotties, Amy Peterson (Imogen Poots). He has a strained relationship with "Evil" Ed Lee (Christopher Mintz-Plasse), a leftover friend from his geeky childhood.
Ed confronts Charlie at school one morning, asking if Charlie has noticed how many kids have gone missing. Charlie hadn't, and considers Ed paranoid, but nevertheless agrees (after threat of blackmail) to accompany Ed to the house of an absent student that evening. School ends and Charlie returns to the home he shares with his single mother Jane Brewster (Toni Collette), where she introduces him to their new and apparently charming neighbor, Jerry Dandrige (Colin Farrell), a construction worker who works nights on the strip.
Remembering his commitment to Ed, Charlie ducks out and meets his friend at the house of the missing student. There he learns of Ed's belief that Dandrige, the new neighbor, is a vampire. Obviously Ed has gone off his rocker, and, blackmail or no, Charlie's had enough. He leaves his friend and goes home, only to learn the next day that Ed has now gone missing.
This motivates Charlie to start taking Ed's previous accusations against his neighbor more seriously, and he discovers some disturbing things. There are some fun scenes between Dandrige and Charlie as they both try to figure out what the other is up to. Charlie's investigation leads him to Vegas magician Peter Vincent (David Tennant), a self professed expert on vampires who does an extravagant vampire show on the strip. With Peter's involvement, events lead to an ultimate showdown between Charlie, Peter and Dandrige.
Worth mentioning is a cameo appearance by Chris Sarandon, the original Jerry Dandrige from the 1985 film. I like how they did that. In the credits his character is identified as Jay Dee, which are the initials of Jerry Dandrige. Clever!
So we end up with a remake that pays homage to its source material, but adds enough new stuff to make it interesting, and that's saying a lot given our current saturation level when it comes to vampires. It struck an admirable balance of keeping what was fun and interesting about the first film while still changing things enough to keep it interesting. Marti Noxon write the script; it's evident her time on Buffy the Vampire Slayer paid off.