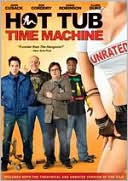 Hot Tub Time Machine
(2009)
Starring John Cusack, Craig Robinson, Rob Corddry, Clarke Dunn
Directed by Steve Pink
Review by Dave Felts
Rating (4/5):

Lou (Robb Corddry) is depressed. He's a loser, still stuck in the past, driving his 1980s Trans-Am and jamming to Motley Crue. A too-close encounter with a bottle of whiskey and the exhaust of his car result in his hospitalization. He denies the suicide attempt, yet the Doctor is concerned and he recommends to Lou's equally loser friends, Adam (John Cusack, who has just been dumped again) and Nick (Craig Robinson, who works at a dog grooming spa and is firmly under the thumb of his controlling wife), that they keep an eye on him.
To cheer up their depressed friend (and themselves) they reserve a room at ski resort where they once spent a wild weekend, way back in 1986. Jacob (Clarke Dunn, Cusack's video game obsessed nephew) comes along for the ride. Alas the old ski resort has seen better times; it's run down caricature of their youthful memories, and the one-armed bellhop (Crispin Glover in a nod to Back to the Future) epitomizes the bitterness, loss and anger they all feel (Glover has two arms back in 1986, and it's running gag as we wait for the accident that severs it).
Determined to make the best of it, they get the hot tub working and start swilling the booze, but when a can of Chernobyl Energy Drink spills on the hot tub's control panel, they suddenly find themselves transported all the way back to the wild party weekend they experienced at the resort 1986. It's a world of bad haircuts, leg warmers, and big-hair metal bands, and where they (feel) they crested the peak of their potential and started down the other side.
Jacob, who didn't exist in 1986, ends up there as well, and now the friends have a conundrum: they want to make some changes, but aren't sure what will happen to Jacob if they change too much or the wrong thing. They decide to repeat the events of the evening as best they can, but we all know movies like this don't work out that way. They're on a time-line as well - Chevy Chase, the hot tub repair man (who pops up unexpectedly from time to time, only to just as quickly vanish) tells them they have until morning before the hot tub is fixed. So they have one night and they're determined to make the most of it.
Cusack, of course, is
the
poster child for 80s movies (The Sure Thing, Better Off Dead, Stand by Me, One Crazy Summer, Say Anything and more). His presence is a running gag of sorts; it's nice to see he can have some fun with his legacy.
The movie proceeds at a frenetic pace, no so much following a plot as accelerating from one scene to the next in a series of gags and slapstick, each one more offensive and crude than the next. Every time you think you see the next thing coming, you find out you were almost, but not quite, right. Yet there's a method to the madness. The movie rushes ahead so quickly and the characters seem so earnest that you can't help but sympathize with them. Despite the coarseness, the liquor and drugs, there's more to the story than three guys trying to repeat a night of debauchery.
The audience, along with the characters, begins to realize and understand that life at all phases is woven through with struggle and disappointment. Many of us recall our youthful days with longing, regretting the lost opportunities and squandered potential, wanting desperately to recapture the (what we now know was false) promise of unlimited possibility. But have we varnished those recollections too thickly? Were we as happy as we remember being, or have the struggles, disappointments and unhappy feelings of those days simply faded away to be replaced with
nostalgic memories
?
It's not easy being middle-aged and, although we might not remember it as such, it probably wasn't easy being young either. I suspect this insight might be largely incomprehensible to anyone who hasn't already started collecting their own slightly altered recollections of wasted youth.
Those who didn't grow up with Cusack in the 80s, who weren't there at the birth of rap, who don't remember hair metal, the first Madonna album, or Soft Cell, might not connect with this movie. But of you're 40 or over, it might have a deeper resonance with you. Sure, you'll laugh, but you'll feel a bit sad too, and some longing of your own for what you remember as being simpler times, even though they probably weren't. Caveat: if you're not a fan of the F-word, consider yourself warned.