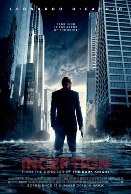 Inception
(2010), Rated PG-13
Starring
Directed by
Review by Dave Felts
Rating (4.5/5):

I'm not a 'release night' kind of guy. As yet, I've never been so intrigued by a movie release that I was tempted to see it opening night. However, my wife has a 'cougar' crush on Joseph Gordon-Levitt, so we made it a family event (extra-family if you count my daughter's boyfriend) and headed out. Arrival: about 11:00. Movie start (well, previews anyway): 12:01. Arrive home: 3:24. I can't remember the last time I was out past midnight. When did I get so stodgy?
The movie. Hmmm. It's like Eternal Sunshine of the Spotless Mind meets The Italian job as written by Philip K. Dick and seasoned with a dash of The Matrix (the good one) and Vanilla Sky. How about that?
Cobb (Leonardo DiCaprio) and Arthur (Joseph Gordon-Levitt) are corporate spies. They don't sneak around high-rises and board rooms, or hack computer systems, however. They perform their intelligence gathering using a more direct method: right from the mind of their victims. Specifically, they invade their victims' dreams to uncover their secrets.
Nolan (the director) doesn't go into much detail here. He simply establishes the facts: it is possible to insert yourself into other people dreams; while in those dreams you can manipulate the person's mind to uncover secrets. He doesn't establish the how, and he doesn't have to: it works. Sometimes, in the effort toward continuity, creators can get too wrapped around trying to explain everything. Knowing the details can work, but other times it's simply enough to present the premise and have everyone involved act as though it's perfectly natural. That's what Nolan does here to very successful effect.
Back to the review....
In Nolan's dream espionage world, the process of gathering secrets is called extraction (logical). The opposite of that is inserting an idea into a person's mind. This is called inception, and it's so difficult that it might as well be impossible. Or is it..... See, in order for the idea to 'take', it has to be planted in such a way that it seems to be the person's own idea. Every idea has a genesis and the subconscious always knows where the idea came from, even if the conscious mind doesn't. If that's sounds confusing, it is, but the movie provides a good example to help you wrap your mind around it.
If I say to you "don't think about elephants", what do you immediately think about? Elephants of course. So for an inception to work, I need to get you to think about elephants without you realizing it was me that made you think elephants. You need to think that you thought about elephants all on your own. Your subconscious mind needs to believe the idea came from within, not without. Whew.
Cobb and Arthur are hired by Saito (Ken Watanabe), who wants them to implant an idea into the head of one Robert Fischer, Jr. (Cillian Murphy), who is heir to the world's largest energy company. In return, Saito promises to get rid of some unfortunate history lurking in Cobb's past, a history that could also greatly threaten the success of the mission itself. There's added danger: typically, when killed in a dream, the dreamer, or the person inserted into the dream, simply awakens. But an inception requires the players to go so deep, that if they're 'killed' they could be trapped inside forever, or at least a
really
long time.
Cobb and Arthur assemble their team, a group of specialists with cool sounding RPG names like The Architect (Ariadne, played by Ellen Page), The Forger (Eames, played by Tom Hardy), and The Alchemist (Yusef, played by Dileep Rio). Saito also comes along for the ride. While Cobb might be the only extractor good enough to accomplish the mission, he also has a secret that makes him the greatest threat to its success. The plan unfolds and the team heads off into the mind of Fischer with the intent of implanting the idea so deeply, Fischer will think he thought of it himself.
The characters are well realized and acted. DiCaprio has developed a reputation for portraying tortured characters and raises the bar here even more. Page brings naivety and excitement to a team that has become somewhat jaded and unsure. The other actors are equally compelling and the result is a film that exceeds the sum of its parts.
The movie's complexity is both its strength and its weakness. Nolan doesn't treat his audience as passive sponges. You have to pay attention to what's going on, and even then you'll often find yourself unsure as to what's dream and what isn't. Some people appreciate this type of involvement, but others, unused to being more than eyeballs processing explosions and trite, predictable plots, might find themselves lost. Even the most astute of viewers will probably leave the theater feeling as though they missed something, and with questions that will remain unanswered.
Nevertheless, this was one of the most engrossing movies I've seen in a while, and well-worth the time (and effort) required to watch it.


Edited by Dave - Mar-03-2015 at 7:41am