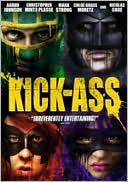 Kick-Ass
(2010), Rate "R"
Starring Aaron Johnson, Nicolas Cage, Christopher Mintz-Plasse, Chloe Grace Moretz
Directed by Matthew Vaughn
Review by Dave Felts
Rating (1.5/5):

Kick-Ass was confusing to me. Not the movie itself, but as to what audience it was intended for. The main characters (except for the villain) were all kids, high school age at the oldest and elementary school at the youngest. It was violent and profane, with the youngest cast member, Hit Girl (Chloe Grace Moretz), voicing some of the choicer vulgarities.I'm no prude, and few saucy words don't bother me, but I'm not much a fan of a 12 year-old girl spouting some of our more hardcore curse words, nor do I think it's appropriate for a sex scene featuring characters under the age of consent. Now we know the actors are older, but fer chrissakes they're playing teenagers. Sure, teenagers have sex, but I'm just not in favor of showing it. Both these things bugged me, and that interfered with my enjoyment of the movie.
I'm still not sure I should even be reviewing it for SFReader. I've classified it as Science Fiction --> Superheroes, but they aren't super heroes. No super powers, no radioactive origins. They're just ordinary (well, maybe not ordinary) kids doing something that is, when you get right down to it, pretty stupid. Kick-Ass is based on a comic book of the same name, but the interesting thing here is that the comic (done by Mark Millar and John Romita Jr.) was being done at the same time as the movie.
Dave Lizewski (Aaron Johnson) decides he's tired of bad guys getting away with being bad, so he decides he's going to do something about. Naturally, instead of organizing a neighborhood watch or setting his sites on the police academy for when he's older, he decides he's going to become a super hero and fight crime. "I never understood why nobody did it before me," he says at the beginning of the movie. Because they're not stupid, that's why.
A few crime-fighting adventures later, Kick-Ass ends up an Internet phenomenon after a bystander captures him on film. His spreading fame inspires other loonies to throw off their sanity and done costumes as well (with bad results for one poor guy).
He get involved with Big Daddy (Nicholas Cage) and Hit Girl, who were already sneaking around in costume and fighting crime. Nicholas Cage is an ex-police officer who's been raising his daughter Mindy (Hit Girl) in a most unique manner. Their crime-fighting efforts have become a thorn in the side of crime kingpin Frank D'Amico (Mark Strong) and his son Chris (Christopher Mintz-Plasse). They concoct a plan; Chris create a superhero of his own, Red Mist, to lure out Kick-Ass so he and his father can use him to get to Big Daddy.
All this is set against a barely noticeable backdrop of teen angst and crude jokes. It doesn't take Dave long to figure out he can use Kick-Ass to get the girl of his dreams, which he immediately does. Cue the underage public sex scene. Wrap all of the above in hyper-violence and viola!
I dunno. Maybe I'm getting old. Maybe being a father makes me more prickly. But that brings me back to being confused. The movie certainly isn't suitable for anyone the same age as the protagonists (or younger). I wouldn't want my 16 year-old daughter to see it. And I think viewers closer to my age will be too put off by the little girl's profanity. So that leaves a segment somewhere between 18 and 30 I guess. Old enough to not need permission to see it, and young enough not to be bothered.
Am I harping on the language this too much? If the purpose was to shock, it was successful, but I don't see how it was necessary. I think Kick-Ass would have been more watchable without it.


Edited by Dave - Mar-03-2015 at 7:42am