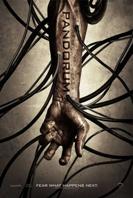 Pandorum
(2009), Rated "R"
Starring Dennis Quaid, Ben Foster, Cam Gigandet, Antje Traue, Cung Le
Directed by Christian Alvart
Review by Dave Felts
Rating (2.5/5):

Have I mentioned how much I like streaming Netflix movies? I honestly think stream-on-demand is the future of home TV/movie entertainment. The only question is how long it will take movie companies to figure it out. From the looks of things, it will be a long time.
A quick search for Pandorum reviews reveals mostly negative opinions, but it seems to be one of those films that has divided viewers: critics mostly trashed it, but the average viewer didn't seem to think it was so bad. I'm in the latter camp.
Nevertheless, it's not a movie that begs examination. Look too close and you'll see the wires and destroy the illusion. If you load up Pandorum looking for something other than being mindlessly entertained by an atmospheric science fiction/horror/action hybrid, you're going to be disappointed. It's a fun, moderately spooky and claustrophobic quest through a derelict space ship filled with cannibalistic mutants and hidden human survivors.
Not too far in the future, it seems we've continued on our present course and used everything up. A world-wide war for the few remaining resources rages as humanity races toward its unavoidable destiny of self-extinction. Yet there's enough organization left somewhere that they're able to toss together a space mission to launch a colony craft to an Earth-like planet some hundred odd light-years with the plan of transplanting humanity a new planet for us to despoil and kill each other on.
Naturally, something goes wrong--there wouldn't be movie if it didn't--and two crew members are unexpectedly awakened from their cryogenic suspension: Lt. Payton (Dennis Quaid) and Engineer Bower (Ben Foster). They're trapped in some sort of control area, everything seems to be a shambles, and they can't get anyone anywhere else to answer the comms. Something's going on with the ship's reactor, it's about to power down, and somebody needs to get down there stat and flip the reset or the whole mission is doomed.
Engineer Bower is the obvious choice, so he departs, while Payton stays behind to monitor whatever it is he's monitoring. Once out if the control center, Bower discovers there's a lot more wrong than they thought, as he finds the rest of the ship seems to be the hunting ground for some sort of mutants that might--or might not--have once been human. Scurrying around like rats are a few surviving humans, doing their best to stay hidden and avoid becoming a mutant barbecue lunch.
Bower has a limited time to get to the reactor before it goes off line and the ship powers down completely, thus ending all hope of any sort of survival. The title of the movie, Pandorum, refers to mental space sickness that tends to drives its sufferers insane and makes them paranoid. Both Bower and Payton seem to be experiencing increasing symptoms of it, complicating the mission.
So what we've ended with is sort of a cross between The Wizard of Oz and Aliens. Bower and the few allies he gathers are in a race against time to get to the reactor, all the while dodging crazed mutants, equally crazed human survivors, and slowly going insane.
For the most part, it works. The sets are gloomy and dark, the cheesy jump scares not too numerous, and the flesh-eating ghouls appropriately relentless. I'm not the most observant movie-goer, so the end was sort of ah-ha for me and left me feeling satisfied. A more refined viewer might have seen it coming and been disappointed though.
If you're looking for some sci-fi/horror/action thrills that don't demand much in the way of mental energy, Pandorum is a good way to spend an afternoon.


Edited by Dave - Mar-03-2015 at 7:39am