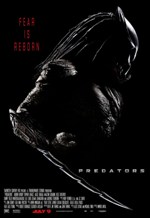 Predators
(2010), Rated "R"
Starring Adrien Brody, Topher Grace, Alice Braga, Walton Goggins, Oleg Taktarov, Laurence Fishburne, and Danny Trejo
Directed by Nimrod Antal
Review by Dave Felts
Rating (2.5/5):

If you going to watch Predators, hopefully you already know what type of movie you're in for. This isn't an award winner or an Academy nominee. It's not going to pose Great Questions and inspire deep thought or reflection. It doesn't offer insight into the human condition and you aren't going to leave the theater the bearer of new philosophical enlightenment. What is does do, and does fairly well, is offer up a fun-filled 107 minutes of alien versus human mayhem, evoking some, if not all, of the spirit of the first one from way back in 1987 (has it really been that long?).
In more than a nod to the original, what we have here is a group of human bad-asses transported to an alien world for the purpose of being the game in a Predators' camping trip. As in the first, it's a jungle crawl, with the humans traipsing through a rain forest that bears an uncanny resemblance to the Latin American jungle Arnold and his team traversed. Except for a multi-moon shot, a derelict giant mining machine, and hunting dogs that seem to be mastiffs cross-breed with rhinos, they could just as easily be Earth.
The opening scene treats us to a shot of Royce (Adrian Brody) plummeting unconscious in free fall. He snaps awake in time to get his chute deployed, and finds himself in the middle of a jungle with no idea of where he is or how he got there. It's not long before he meets up with the other huntees dropped in for the safari:
Edwin (Topher Grace), a doctor
Isabelle (Alice Gragge), an Israeli Defense Force sniper
Stans (Walter Goggins), a death row convict
Nikolai (Oleg Taktarov), a Russian soldier (reprising Ventura's role with the mini-gun)
Cuchillo (Danny Trejo), a Mexican drug enforcer
Hanzo (Louis Ozawa Changchien), a Yakuza
Mombasa (Mahershalalhashbaz Ali), an African revolutionary
Quite the crew of mostly evil ass-kickers, artfully assemebled for some get down and dirty human-hunting fun. There's also a cameo by Lawrence Fishbourne as Noland, a previous huntee who's been on planet for who knows how long and has thus far avoided being killed. He's even whacked a few of the Predators himself. He's also a bit touched....
As far as plot, there's not much too it. The humans have been air-dropped into the game reserve and the Predators are hunting them. In addition to trying to keep from getting turned into Predator puree, there's also the typical infighting you might expect among a group of soldiers, mercenaries, black ops, convicts, criminals and killers. Brody has the lead role as Royce, an ex-Black Ops merc who, once he has a full understanding of the situation, comes up with what's actually a semi-reasonable plan for hijacking a Predator spaceship and getting back to Earth.
Brody buffed up for the role, but despite the abs, he looks more like a dancer than a bad-ass. He's an inadequate replacement for the manly beefiness if Arnold's Major Alan "Dutch" Schaefer. In my opinion, Arnold's orginal team (Carl Weathers as Agent George Dillon, Bill Duke as Mac Eliot, Jesse Ventura as Blain Cooper, Sonny Landham as Billy Sole, Richard Chaves as Jorge "Poncho" Ramirez, and Shane Black as Rick Hawkins) would eat Brody's group for a breakfast snack. With the exception of Hanzo, the Yakuza, who has a pretty good scene wielding a samurai sword, I don't think they come across as bad-ass as they are supposed to.
Something I think worth noting--and this is not just about this film--is the casting of women as action characters. With a few exceptions, women warriors are a fairly recent phenomenon. Yeah, we've had our tough chicks from time to time; Lori Petty as Tank Girl (1995), Linda Hamilton in Terminator 2 (1991), Xena appearing in the Hercules series starting in 1995 (before getting her own series).... But the field began to noticeably expand around the new millennium. Suddenly we saw tough women kicking ass all over: the Laura Croft movies, Starbuck in the new Battlestar series, Alice in the Resident Evil movies, Ultraviolet, Buffy the Vampire Slayer, Sydney in Alias, Kate in Lost, La Femme Nikita.... it's a long list now and getting longer.
Compare these roles to those women usually filled some 15 or 20 years ago. The original Predator was a boy's club, with the woman nothing more than a hostage and not even worthy of being killed. In Romancing the Stone, Michael Douglas was the hero while Kathleen Turner the tag-along love interest needing rescue. Women characters were usually nothing more than motivation for the man to kick-ass, either because they needed to be saved/protected (The Princess Bride) or had been killed and thus inspired revenge (Rambo: First Blood Part II). Even when they were side-kicks and not victims (as in Commando), they still usually required some sort of rescue, after which they mostly provided logistical and/or moral support, with no hand in the actual death-dealing mayhem.
I'm not sure what my conclusion is here, but as far as dishing out crescent kicks, head butts, throat chops and machine gun spray, it seems you've come a long way baby.
As I mentioned above, Predators is a fun, albeit predictable, romp. The characters you expect to die do, things proceed pretty much as you anticipate, and although they try to twist it up a bit near the end, it's really not too hard to see what's coming. We're served our fair share of tough-guy banter and one liners, some that work and some that don't. Entertainment, yes, but about as nourishing as a handful of popcorn.


Edited by Dave - Mar-03-2015 at 7:40am