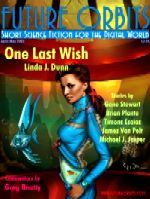 When you download a Science Fiction pub from your email, there's an anticipation almost as exciting as fishing a print-pub out of your mailbox. I say almost because of that nagging suspicion that reading fiction on a computer is somehow supposed to be uncomfortable or strenuous. I read a colossal amount of fiction online, in e-pubs, and in print. When I see Future Orbits in my email, there's no "almost" about the excitement I feel. Reading Future Orbits is a treat. In addition, this pioneering SF e-pub is available in a startling variety of electronic formats, one suited for any particular taste or tech.
Issue #4 bursts out of the starting gate with "Looking Ahead", an editorial "All Hail!" to the Future of both mankind and Science Fiction, perceptively scribed by Tom Vander Neut. From tip to tail, Future Orbits is tangibly innovative and forward-looking. Whether in format or content, this pub owes its formidable substance to no other SF source, and that is self-evident when you scroll through a copy.
Greg Beatty's Commentary piece gives a taste of Future Orbits' eclectic futurism. With a kaleidoscopic look at what-may-come, "The Futures", offers an Aristotelian primer on speculative-perception, a piece equally instructive to SF writers and fans. Issue #4 cleverly elaborates on Beatty's breezily noted observations by illustrating his concepts in imaginative and technically proficient fiction.
The lead-fiction piece, "One Last Wish" by Linda J. Dunn, takes up two of Beatty's premises: cyclical history and history as a paradigm shift. This tribal tale combines the conceits of gender mutation (paradigm shift) and interstellar Missionaries (cyclical history) in a breathtaking alloy that will make you rediscover the more chilling effects of Relativity and superluminal travel. Born into a mystical tribe where there are three mature genders: Mamas, Aunties (barren male-women), and men, a young girl "wishes upon a star" that she will grow up to be a man -- and travel through space to distant worlds. The tale's dark irony resonates wisely throughout this absorbing piece. Dunn succeeds on every level here, from science to symbolism, but she is at her most poignant with her gracefully drawn protagonist, a unique tribal emissary who becomes the custodian of her race's future, and the emblem of its endurance.
"Moonlights" by Gene Stewart explores another of Beatty's concepts: "the future as symbol". This is a challenging perspective, one that involves an almost solipsistic submergence in the Universe as self-extension through Archetypical myth. Seen in this light (pun intended), the story is compelling, though not fully articulated. Stewart's subtle touch risks losing most if not all of his readers. His portrayal of Spaar, a geologist on an emergency mission to the moon to investigate the sudden appearance of mysterious patterns of light, is a symbolic triumph, with "Spaar" the cast-off scientist probing toward the mysterious orb-self of the moon. Nevertheless, this story, despite its credible descriptive writing and good intentions, seems a rewrite short of full articulation.
Brian Plante weighs in with an outstanding story, "Best Friends". There are undeniable rough spots in this Animal Farm meets Noah's Ark tale, some directly related to the central conceit: intelligent animals made smart by computer "helpers" so that they might be more smoothly transported on a long space journey to a newly seeded world. Despite having some obvious difficulty with the premise, this story drew me in and slowly engaged me until I was ready to dub Plante a genius for his efforts. His protag, Ray the Keeper, just barely manages to be more interesting than his border collie sidekick, Chessie, and it doesn't take too much imagination to see what's coming plot-wise in "Best Friends". However, Plante's mastery of irony and his deft prose actually sent several shivers down my spine. An example is this sentence: "Ray and a few of the other crew members were dismantling the equipment in the barn, to be cannibalized for electrical parts." A sinister and captivating use of a single word to consummate the story's theme. My final verdict on "Best Friends" is that I'll buy the next pub I see with a story by Brian Plante, no questions asked, and I urge you to do the same.
The jewel of this issue is "The Right Thing", by Timons Esaias. An embezzler of Enronic proportions becomes a hostage in his own techno-sentient mansion after his crimes are publicized and the world at large is screaming for his hide. The embezzler's house, a literary descendant of HAL, is programmed to protect him from humiliation. After evaluating the seriousness of its Master's predicament, the House advises suicide. All that remains is to settle on a method. The House advises a painful, yet honorable suicide in true Oriental fashion. "This is the method with the highest iconographic approval rating, according to my current polling data." The climax that follows is a gesture of Dark Poetic Justice worthy of the highest accolade. This tale is a must-read.
The runt of the litter is James Van Pelt's, "Like a Film Gone Twice", a confusing story with poetic/nostalgic undertones. It incorporates a Beatty concept: "alternative histories", but lacks cohesiveness and closure. Unfortunately, this story of a struggling writer and his encounter with a movie-loving, Jujyfruit munching time-traveler lands somewhere between a vignette and a short story, and as such it, like Stewart's "Moonlights", is apt to bewilder more than enlighten.
The finishing piece takes up the least romantic and most cynical of Beatty's Futures: "the present as future" and adds a dark, richly poignant climax to the issue. Michael J. Jasper's "Working the Game" left me in awe of his creative prowess. In a future where a "smart wall" separates the city of Raleigh into haves and have-nots, oppressed workers build and destroy with nano-tech and other hazardous techtools. We follow a grim story of existentialist angst, told powerfully and convincingly from 1st person POV. Jasper pens cunningly inventive variations on ironic themes: "scrags" struggle twelve hours a day at lethal demolitions trying to earn enough "points" to cross the wall and live the easy life in a "cocoon". The government enslaves the scrag/workers while secretly attempting to manufacture an even better work-pool of "cloneslaves". Twined against this dystopian background are a touching love story and a vision of futility that rivals Hardy's. A spectacular success -- I recommend this piece, second only to "The Right Thing".
Future Orbits is an impressive pub and with one or two more issues of this caliber I would have no choice but to award Tom Vander Neut my Brand. I would consider it an honor, as his editorial vision is vibrant and distinct. I heartily commend him for his successes.
At $2.95 an issue, even the most diehard paper-clutcher should click over and subscribe to Future Orbits. If you want to test-drive first, visit the Future Orbits website and download the premiere issue -- for free. When you finish, order your sub. This is one of the best pubs going; sign up and get top-notch Science Fiction every two months delivered right to your desk.
Until Next Time,
Daniel E. Blackston