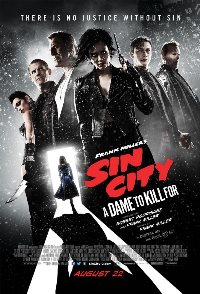 Sin City: A Dame to Kill For
(2014)
102 minutes
Rated: R
Directors: Frank Miller, Robert Rodriguez
Writers: Frank Miller, Frank Miller (graphic novels)
Stars: Mickey Rourke, Jessica Alba, Josh Brolin, Joseph Gordon-Levitt, Rosario Dawson, Eva Green
My wife's fond of Joseph Gordon-Levitt, primarily through participation on
HitRecord.com
, a website he founded. She's had two of her submissions selected for inclusion in the HitRecord Tiny Stories series; nothing like personal success to cultivate a fan! So Sin City: A Dame to Kill For became a movie to see once she knew Levitt was in it. I dutifully secured a copy of the first one to watch so she would know what she was in for, but her interest remained undimmed.
So our movie date (which are few and far between due to reasons too long and uninteresting to go into here) was an 11:45 a.m. weekend engagement of Sin City: A Dame to Kill For.
Worth noting was the audience, or, rather, the lack thereof. When we arrived a punctual 15 minutes early, the theater was empty. Two more moviegoers wandered in before the actual start of the move, and one more a few minutes in. I'm sure the time and movie selection were factors, as I've often been able to catch even new releases of extremely popular movies early on a Saturday or Sunday with room to spare....
If you've seen Sin City, then you know what you're about to be hit with. If you haven't, rent it and watch it before seeing this one. Presentation and style are identical to the first, as are many of the characters. It's not a sequel though.
A Dame to Kill Four is comprised of four separate stories taken from Frank Miller's Sin City series. I'm not enough of a die-hard fan to know them, and I'm not particularity included to research; you'll have to look them up yourself.
I like the style, although I felt I was re-watching the first one as far as plot and theme go. Because some of these stories take place before the events of the first Sin City movie, I was confused as to the timeline. Once I understood 3 of the 4 stories takes place BEFORE the first movie's events, I (sorta) understood, or at least accepted, why I was seeing characters I didn't think were around anymore.
However, I would not put this movie in the category of movies one goes to see because one wants to see a movie. In a way, it not a movie at all, it's a graphic novel rendered into movie form, with a style and presentation much more reminiscent of its origin media than that of a motion picture.
I'm not going to (try) to summarize the plot, as I'm not sure I understood it enough to be able to.
All the above might make it seem as though I didn't enjoy it. I did enjoy it - for what it is. But a traditional movie it is not.
If you're familiar with Frank Miller's work, and a fan of noir and alternate cinema, or of graphic novels, this is a good choice. If you saw the first one an liked it, you've probably already seen this one. But if you're looking for a traditional crime movie, or a Mickey Spillane whodunnit, or some other sort of coherent crime-slash-action thriller, you're going to be disappointed.
Not recommended for anyone under late teens....


Edited by SFReader - Jul-06-2016 at 1:16pm