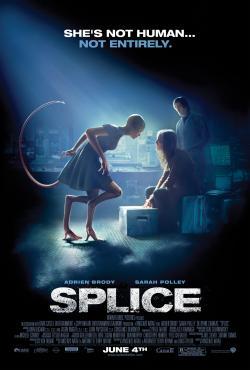 Splice
(2010)
Starring Adrien Brody, Sarah Polley, Delphine Chaneac
Directed by Vincenzo Natali
Review by Dave Felts
Rating (3/5):

My daughter is a fan of horror movies and I enjoy the occasional one myself, so one Sunday afternoon we headed down to the cinema to catch Splice. The movie's rated R, primarily for some sex scenes (one topless), so 16 or over is my recommended age, although it might depend on how mature your 14 or 15 year old is.
Splice isn't anything new. It's a retelling of Frankenstein, and like it's progenitor, it deals with some of science fiction's favorite themes: human hubris, playing God, the 'because we can' syndrome, the short-sightedness of genius and ultimately how we are the instigators of our own destruction. The issue of man versus nature is probably even more relevant today as we begin to approach the ability to
artificially construct life
.
Clive (Adrien Brody) and Elsa (Sarah Polley) are brainy superstar genetic scientists
working to combine DNA from different animals to create a 'new' animal from which they can mine new proteins and enzymes that can, you know, cure all diseases and such. They also happen to be a couple, together for a while, but not yet able to make the ultimate commitment due to some relationship and parenting issues in Elsa's past.
Their efforts have born fruit in the form of Fred and Ginger, two blob-like life forms that excret unique and new proteins and enzymes (but evidently not the ones the company they work for wants). Clive and Elsa want to take the next step and toss some human DNA into the mix, but the company funding the bill wants to consolidate what they're done so far and start making some money. They company also isn't ready to deal with the scrutiny that would come from some sort of human hybrid experiment.
The company orders them to produce or get shut down. Faced with the potential end of the gravy train and frustrated by the short-sightedness of their corporate masters, Clive and Elsa push ahead with their human/animal DNA experiment in secret, just to see if they can do it. They can, of course, and the result is Dren (Delphine Chaneac), a rapidly developing human hybrid of unknown potential and purpose. If you're familiar with the arc of the Frankenstein plot, you can probably guess what unfolds, albeit with a few interesting twists tossed in.
Rather than going for cheap scares or gross outs a la Saw or the dozens of other torture porn travesties not worth watching, Splice is driven as much by its characters and their relationships with each other and their creation as by its Frankenstein roots.
The film builds tension slowly, though we all know, ultimately, the price to be paid for messing with mother nature. We can't help but have some emotional investment, especially for the enigmatic Dren, part science experiment, part human, and part something else: sexy yet scary, animal yet recognizably human, frightening yet pitiful, property yet a... person? How she is treated is a good parable for how humankind treats all those who are different.
My takeaway wasn't that it's a horror movie in the sense of horror being done to us, but rather a reflection of the horror we perpetrate among ourselves as we each chase out own selfish pursuits, regardless of the harm we might do others.


Edited by SFReader - Jul-06-2016 at 1:38pm