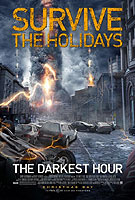 The Darkest Hour (2011), Rated PG-13
89 minutes
Starring Emile Hirsch, Olivia Thirlby, Max Minghella, Rachael Taylor, Joel Kinnaman
Directed by Chris Gorak
Reviewed by Dave Felts
Rating: (1/5)

Two young American entrepreneurs, Sean (Emile Hirsh) and Ben (Max Mingella) arrive in Moscow to pitch their web site business to Russian investors in the hopes of a big payday. When they arrive, however, they find a business contact, a Swedish man named Skyler (Joel Kinnaman), has back-stabbed them by stealing their idea and already securing the deal for himself.
Fortunately, Sean's and Ben's web site idea was a guide to all the best hot spots in various cities of the world, so they already know a place to go to drown their disappointment and hatch their next scheme. At the club, they make the acquaintance of two hotties, Natalie (Olivia Thirlby) and Anne (Rachael Taylor).
Their bad luck continues however, because before they get a chance to make their moves, the sky lights up like the northern lights. Everyone runs out of the club to see strange glowing lights floating down and landing in the city. Alas, these are not cosmic holiday lights, and before you can say "alien invasion", one of the light things wends its way down the street and explodes a police officer into dust.
Ben and Sean, along with Natalie, Anne and Skyler manage to escape the street stamped, run back into the club, and lock themselves in a storage room. There they linger for a few days, only to emerge and find Moscow empty. They set out to find other survivors, and, based on a radio message, decide to try to make their way to a submarine to get transport out of the city.
So that's the set-up: five twenty-somethings sneaking around Moscow trying to avoid being turned into dust by alien energy beings.
While there are some interesting concepts here, none of them ever come to fruition. I thought it actually started out pretty good, but the rest of the film failed to match the promise of the first 10-15 minutes and as it continued, it got sillier and sillier.
The characters were a problem, in that they are all pretty one dimensional, so much so that they sort of merge together. Sean is the mouth, Ben is the brains, Skyler is the craven, and the girls are, well.... the girls. Even after days stuck in a storage cellar they're hair and makeup are purrrrrfect. And that about as much character development as we get.
Since it was hard for me to connect to the characters, it was hard for me to get involved in the film. While there are some interesting concepts here, the poor execution, flat characters, dorky dialog, and ridiculous events overshadow them. In essence what we have here is a survival film, only it's hard to care if the characters survive or not.
It's a shame, because it did have a few things going for it that it failed to take advantage of. The Moscow setting was cool, but it could have been in any big city. Making the aliens either invisible or appear as clouds of yellow, sparky smoke seems like a throwback to earlier CGI. It had the feel of one of those afternoon science fiction movies I watched as a kid, which isn't necessarily a bad thing, except it I don't think it was trying to be that.
Toward the end, the group runs into some interesting Russian survivors. Here, I think, the film starts to take advantage of its cheesiness, intentionally or not, but unfortunately, it's too little, too late.
Unless cheesy science fiction movies that don't realize they are cheesy are your bag, I'm afraid I can't recommend this. I'll offer up this caveat though: my twelve-year-old son liked it.


Edited by Dave - Mar-17-2015 at 9:58am