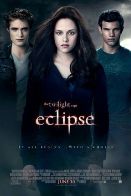 The Twilight Saga: Eclipse
(2010), Rated PG-13
Starring Dakota Fanning, Kristen Stewart, Robert Pattinson, Taylor Lautner, Billy Burke, Ashley Greene
Directed by David Slade
Review by Dave Felts
Rating (2/5):

Yeah, I saw Twilight Eclipse yesterday, along with my wife and kids. My son was the only one for whom the burden was too great: too much kissing he reported as the credits rolled. Except for some action packed vampire/werewolf battle scenes, he spent most of the time squirming. My daughter read the books a few years ago, tore through them in a month or two. I'm not going to discuss their merits. Suffice to say that I think anything that gets kids reading is a positive.
After the adventures of New Moon, Bella (Kristen Stewart) and Edward (Robert Patterson) are back in Forks, Washington, the dreariest city in the country. Bella is in her senior year of high school, only a short time away from graduation and being turned into a vampire by Edward, and then they will be together... FOREVER! Yet danger lurks....
Seems that nearby Seattle is seeing a spate of disappearances of young, attractive height/weight proportionate people. Is it a deranged serial killer? Or something even more sinister? And what happened to Victoria (Bryce Dallas Howard), who swore revenge on Edward after Edward killed her mate James (who was about to off Bella)? She's still out there and planning her revenge.
Alice Cullen (Ashley Greene), one of Edward's vampire 'sisters' has visions; she's seen an army of Newborn vampires threatening Bella and the Cullen family. Newborns are especially bad. Seems a newly minted vampire has very little control and is much stronger than an aged vampire (yet another twist Myers perpetrated on the vampire legend). In order to protect Bella, and themselves, the Cullen coven is forced into an alliance with its age-old enemies, the werewolves.
The trappings of werewolves and vampires and revenge are really just back story, used to pad out what is really soap opera quality love story, a love triangle to be specific, between Bella, Edward and Jacob (Taylor Lautner). And that's the big problem I have with the movie. I think it perpetrates false expectations and even portrays as normal some sinister aspects of romantic obsession.
Edward's obsession with Bella borders on the pathological, and I'm not sure that sends the right message it's mostly teen girl audience. Now I will admit this message is softened somewhat as the movie progresses. Jacob begins to play a more prominent role, and he and Edward come to a truce of sorts. Nevertheless, healthy love is not obsessive love. I hope younger girls don't come away thinking it's OK for a guy to stalk you, always want to know what you're doing and where you're going, and try to place restrictions on the people you're 'allowed' to see. And Jacob's relentless pursuit is also creepy.
I might sounds like a preaching parent here, but 2+ hours of teenagers (yes, Edward is a 100 year old vampire, but he's still a 'teenager') profess their eternal and undying love seems like a lot to do about nothing. I understand the intensity of teen emotion, and certainly don't meant to discount it, but I also have a firm understanding of its transience. Anything more than a day or two ahead is simply to far away to even think about.
Ultimately what we have here is nothing more that the unhealthy romantic fantasy of a teenage girl: two guys declaring undying love and fighting for her affection. She enjoys it, plays them against each other, and subtly encourages their competition, obviously relishing the attention. Not very indicative of her ability to have a mature, fulfilling relationship with either.
But what about the movie? The acting was adequate, except for Jacob, who looked to me as though he were reading lines in a school play. My wife remarked that Stewart must have gotten some coaching about biting her bottom lip all the time, since that tic was conspicuously absent. The effects were good - the battle scenes were fun, the werewolves convincing. There are a lot of corny lines, even some laugh-out-loud ones that probably weren't supposed to be. Some scenes were utterly unconvincing and felt totally contrived and were simply ridiculous.
David Slade, the director, is already the veteran of the vampire movie 30 Days of Night. He does brings a dark aspect to the movie that was lacking in the first two. We're reminded us that not all vampires are sparklely love-besotted idiots, but are actually dangerous and unpredictable predators. I'd have liked to have seen more of that.
If you're a Twi-hard, this movie is obviously a must-see. If you're not, but saw the others, than curiosity alone will probably drive you to the theater. If you're new to the whole phenomenon, couldn't care less about Bella, Edward and Jacob, and want to see a vampire movie, go rent 30 Days of Night or Let the Right One In (subtitles, not dubbed!).


Edited by Dave - Mar-03-2015 at 7:42am