That's right, even in this Pixeled Age where paper magazines across the board face a harrowing future, the human race is still sacrificing trees for Speculative Fiction.
I love print magazines and have savored the sensual joy of many a promising new pub. When it comes to fiction magazines, I regard new encounters with guarded excitement, much the way one might regard a blind date. Having been burned more times than not, most of us approach blind dates cautiously, fearing the worst. So it is when I find a new print pub in my mailbox, I'm excited and interested, but in the back of my mind is the idea that even at best this may be a one-time fling, you know magazines fail everyday just like relationships and most of them don't let you down easy, they just cut everything off at once and implode.

Let's hope this will not be the case with 3SF, a very promising new British pub from the Big Engine Co., edited by Liz Holliday.
Although my date with issue #1 got off to a rocky start with the intro piece of fiction, Jay Lake's, "The Angle of My Dreams",
first-meetings are often strained beneath the burden of making a good first impression. You have to expect a bit of awkwardness or maybe just a clash of expectations. Lake's lyrically-intended coming of age story hit me at absolutely the wrong angle, I'm troubled to say, and kept bringing to mind memories of an old Pink Floyd video coupled with the Fizzy Lifting Drink scenes in Charlie and the Chocolate Factory. In the end, however, Lake fruitfully twines the tragedy of the first space shuttle disaster, Challenger, to the more personal story of his familiar tot-protagonist and does so with occasional grace and emotion. An unobtrusive, but not necessarily meritorious little story, that initially struck me as a bit too predictable.
My enthusiasm picked up considerably with the next story, "Sweet Waters" , a collaborative effort by Sharon Lee and Steve Miller. Blending elements of a tribal/prehistorical epic with the spacewrecked lone-survivor concept, Lee and Miller craft a highly enjoyable and creatively conceived piece that is a heartfelt variation on the theme of "outsider". One especially commendable device in the story is the use of traditional gender roles: males as hunters and women as keepers of knowledge, right alongside some brilliant reversals of gender-typing. The protagonist, Slade, is poignantly drawn with complexities and ambiguities and the story's forward motion is never interrupted by intrusive exposition, despite its elaborate and dynamic world-building. A highly recommended read that reveals as much power in its plot and characters as its premise.
Next up was Marion Pitman's apocalyptic psychodrama, "Sunlight in Spelling", a wry, harsh, wise, and narrowly hopeful tale that merits attention, despite some occasionally rough dialogue and a somewhat wobbly premise. Concerning a sunless near-future earth, Pitman skillfully interweaves the setting of her lightless world to the internal struggle of her proletarian protagonist while refracting the story's central metaphor -- sunlight -- through a bittersweet and ultimately enigmatic love story. There's an awful lot of speculative content in this piece, which seems to hover in a purely metaphorical realm, without ties to probable extrapolation or verisimilitude, but it is a very powerful story nonetheless. Pitman writes evocatively and intelligently -- just be prepared to suspend your disbelief.

If you're looking for tough, imaginative, stylishly written, and intellectually provocative short spec fiction, try issue #1's next offering, "Making Fields", by Mary Soon Lee. This 1st person monologue story plumbs disturbing sociological and socio-ethical depths in less than fifty paragraphs, evoking Margaret Atwood and a spiritual irony worthy of Flannery O' Conner. The skill evidenced in the story's character shadings, narrative pace, and linguistic melody is exquisite and deserves much more detailed explication and praise than can be achieved within the space constraints of this column. From planetary prisons to lesbian innocence to self-sterilization and poetic paradox, "Making Fields", is a finely faceted gem. I read through this one three times in a row becoming more and more astounded at its compression and precision after each read. A spectacular score for 3SF's maiden issue!

Still jazzed from Mary Soon Lee's brilliant story, I turned to the next piece, "The Third Way", by Great Fiction Brand Award winner Darrell Schweitzer. I expect a lot from a Schweitzer story including, but not limited to: lyrical prose, powerful archetypes, emotional resonance, and moral relevancy. "The Third Way" is a moody, maudlin, and magnificent fantasy that sculpts a baroque frieze of familiar symbols in both common and fresh combinations. The story's narrator, Grion, the tenaciously clever and faithful sidekick to the hero Mazantes, spins a richly imagined recollection of a Dream Quest that culminates in a Game With Death and a surprise twist to the Rules of Fate. The imagery and melodic voice in this story form a powerful marriage that is too rarely encountered in speculative prose these days. A masterful tale told with sophistication and confidence.
After this staggering one-two combination, I was a probably a bit too dazed to fully appreciate Lawrence Watt-Evans' story, "Volunteers". I came away with a sort of grudging appreciation for the story -- it was entertaining -- but on technical grounds, this piece is surprisingly clumsy to have been penned by such an experienced pro. The first five paragraphs of the story are straight info-dump, followed by a brief scene where the characters fetch and arrange popcorn and drinks around the TV to wait for the next info dump that arrives in short order courtesy of CNN. This goes on for a considerably long period -- too long considering all Watt-Evans is trying to do is establish one of the most familiar plots in all of SF: that aliens have made contact with our planet and are seeking "volunteers" to join their fleet. The story chugs through some nearly interesting soap operatic subplots and resolves itself with an expository coda. Ironically, "Volunteers", seems to fall short of its own time-honored moral while proving its essential verity -- "nothing ventured, nothing gained".
One of the best things about the debut issue of 3SF was its strong fantasy content. Cherith Baldry's, "The Ring of Ankhar", was especially pleasing to encounter for its strong, traditional fantasy elements and its poignant plot. Riffing on the Fisher King myth, Baldry modulates her near-Arthurian tale by substituting a ring for the Grail -- and a strong, sympathetic heroine in place of Sir Galahad. There's a bit of deception with the reliability of the narrative and various dream states -- however the clean, swift prose and romantic tenor of the tale more than make up for any slight objections regarding the story's resolution. This piece, along with Schweitzer's story, empowers the debut issue of 3SF with a strong, heroic fantasy flavor -- much welcomed by this reader, and many more, I'm sure.
The issue's last tale, "Punishment", by Richard Parks, is an ambitious science fiction story of "virtual psychotherapy" -- where the "social worker" protagonist enters a digitized facsimile of Hell to treat psychotic criminals. I'm not sure I was the best audience for this story, but I liked it anyway. I did have some problems following the set-up and was never sure which thread of the story was the main plot, and which was the subplot. In the end, I decided the ambiguity was intentional and intended to blur the lines between "objective" reality and subjective or self-fulfilling reality. When I started thinking about the story this way, it made a much deeper impact. A successful piece that, like most of 3SF's fiction, packs plenty of plot and thematic power.
In addition to the wide ranging menu of speculative fiction, 3SF offers an equal portion of non-fiction, including book reviews, columns, interviews, and much more. It would be easy to write a full column on the non-fiction content of 3SF and the conclusion would be very similar to the obvious verdict on 3SF's fiction -- this is a very promising magazine in every respect and we should all hope it will be around for some time to come. Now pressing toward their fourth issue -- I encourage all fans of speculative fiction to try this pub. If you want a magazine with spirit, imagination, variety, and a strong emphasis on storytelling, get a subscription right away, you won't be sorry. We've read on through an additional issue of the pub and it only gets better from what we've reviewed here.
Our Great Fiction Brand Award goes this time to Mary Soon Lee for her story, "Making Fields". Congrats Ms. Lee -- if ever your name should appear in our humble column again, the GF Brand will follow it!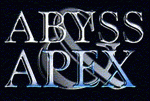 Now for free fiction -- take a minute or two to check out S. Evans' story, "Pineapple Girl", from the new speculative ezine ABYSS AND APEX. This is a spirited treatment of the "Golem" theme we've been off-handedly surveying over the past few columns. Evans displays eloquence and tenderness in this highly readable story of tribal intrigue and shamanism, free for your pleasure.
ABYSS AND APEX looks to be a promising site so set your bookmark accordingly! We wish co-editor/publishers Elizabeth Bear and Leah Bobet much luck and will be checking in at the site periodically.
Don't forget to visit the SFReader.com discussion forums for conversation, news, and debate.
Until Next Time,
Daniel E. Blackston