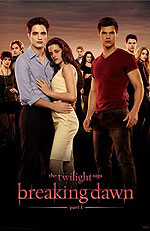 Twilight Breaking Dawn, Part 1 (2011), Rated PG-13
Starring Kristen Stewart, Robert Pattinson, Taylor Lautner
Directed by: Bill Condon
Reviewed by Dave Felts
Rating: (.5/5)

Okay, it's embarrassing to admit, but my wife and I watched Twilight Breaking Dawn Part 1 this past weekend. I could say it was a guilty pleasure, but without the pleasure part.
This is going to devolve into a bit of a rant, so feel free to skip ahead if you want.
My daughter tore through the Twilight books a few years ago (I guess around age 13-14?). Hey, anything to get kids reading, right? Maybe....
Fantasy can be a dangerous thing, especially for people who aren't quite yet able to distinguish between fantasy and reality. Entertainment often plays on our fantasies, and most of the time that's OK. It's easy to see, we disappear into it for a while, and then come back out. But some fantasies are so pervasive they can trick us into thinking that they're the way things should be.
Teenage girls want to get pregnant so they can be on MTV's Teen Mom. Guidos are busy gelling their hair and getting orange tans on the hopes of starring in the next version of the Jersey Shore. Entertainment (and advertising) constantly tells us we should all be tall, thin, athletic and successful. We're supposed to have nice cars, big houses, make lots of money, be in relationships with models. If we don't have this, then we're failures.
The Pampers commercial shows us the gorgeous mom (in full makeup) rocking in the hardwood chair by the window with a view of the beach holding her cooing baby. It doesn't show us the lack of sleep, the exhaustion, the stress of a newborn. Because that doesn't sell diapers. Now this disconnect comes when someone with no experience having a baby sees these commercials. They come away thinking how great it is to have a baby, how easy and fun!
A huge component of popular culture is an illusion perpetrated in the name of profit foisted off on (what seems to me, but maybe I'm just getting older) an increasingly naive public. It seems as though people are increasingly unable to separate this illusion from reality.
There are women who read romance novels for fun, and there are women who read romance novels, think that's how it's supposed to be, and come away disappointed and depressed because that's not how their life is. A romance novel in the hands of most 40-year-olds is just a book; in the hands of most 15-year-olds it's a plan. Hopefully, as that 15 year old ages and gains experience, she'll realize she's been tricked, but judging from news reports of middle-aged women throwing undergarments at the actors who play Jake and Edward, maybe not.
So that's kind of where I am on the whole Twilight thing. It's fantasy romance targeting an age group who has some problems distinguishing between fantasy and reality. Real relationships don't work like this folks. Don't use this as your standard.
Here's the set up:
Love triangle with the beautiful teen girl completely and totally worshiped (not just loved) by two handsome and very special men (one older and worldly, one her age). One wins, but she loves them both. After one wins, they both continue to worship her. The whole thing is really pretty ridiculous, but don't say that to a Twilight fan.
Twilight Breaking Dawn Part 1 picks up at the wedding between Edward (the vampire, played by Robert Pattinson) and Bella (Kristen Stewart). Jacob (Taylor Lautner) the werewolf, finally seems to accept, however reluctantly, that Bella will never be his and that's she'll be turned into a vampire. Edward and Bella jet off to a tropical paradise for their honeymoon. For some unknown reason, they delay Bella?s vampiric conversion, even though all seem to agree a mating between a vampire and human would be dangerous.
Doesn't matter though; the deed is done and evidently, despite it never happening before, vampires can impregnate humans. But the baby growing in Bella's belly (like how I did that?) isn't just a human--it's half vampire too, and without meaning too, it's killing Bella even as it develops at super speed. Seems vampire/human hybrid babies come to term in about a month or so and consume resources faster than than a human mom can supply them (perhaps explaining why there are no human/vampire hybrids), leaving the mom a bit of a wreck before killing her.
Now the werewolves aren't too happy about all this. They baby is an abomination, and can't be allowed to live. This pits Jake against his pack. He still loves Bella, and by extension the baby, so he breaks from his clan to join forces with the vampires to protect Bella from the rest of the werewolves. Meanwhile, Bella marshals her strength and begins drinking human blood (to feed the baby) in an attempt to live long enough to deliver.
Listen, I didn't read Harry Potter, and I didn't see all the movies, but the ones I did see I enjoyed. I'm also ashamed to admit that I found a bit of pleasure in the first two Twilight movies as well, probably because I went to see them with my daughter. They were silly, sure, but for the most part were entertaining and even sort of fun.
Twilight Breaking Dawn Part 1 is silly too, but without the entertainment or fun. Some of the scenes are almost cringe-worthy they're so ridiculous. Stewart and Pattinson should get Academy awards for even being able to deliver some of their lines without groaning. I almost felt embarrassed for them (the actors, not the characters).
If you're a Twilight fan, have at it. Even if you're not a fan, but saw the first two, you probably--like me--want to see how it all turns out. Yes, I just admitted I will watch Part 2. Stick around for a brief after credits scene setting up Part 2.
If you aren't a fan and have no investment from having seen the first two, I can't recommend starting here.