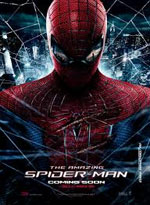 The Amazing Spiderman, PG-13 (2012)
136 minutes
Starring Andrew Garfield, Emma Stone, Rhys Ifans, Denis Leary, Martin Sheen, Sally Field
Directed by Marc Webb
Rating: (4/5)

Did you know the first Toby Maguire Spider-man movie was released in 2002? My how time flies. Spider-Man 3 was 5 years ago! I mention this because I recall thinking when I first heard about the Spider-man reboot--so soon? But I guess it wasn't as soon as I thought. Still, in Hollywood time, a "remake" a mere decade after the original is pretty darn soon. As a result, the newest Spider-man will no doubt be held up side-by-side with the 2002 one. No worries though; the new one more than holds its own in the comparison.
I know a lot of people gushed about Toby Maguire's portrayal, and, although I thought he did a fine job, he never quite filled the tights for me. I found him too stocky, too solid and plodding to be a convincing Spider-man. And that's the first thing that I noticed about Andrew Garfield's version: he more accurately fits my vision of what Spider-man would look like. Noticeably leaner than Maguire, he moves better and faster and slicker. Maybe it's simply better CGI, or maybe Garfield really is that flexible, but I liked his physical portrayal. He's definitely delivers a much better physical performance as a hybrid boy/spider.
I don't know much about Spider-man's past, other than he grew up with Aunt May and Uncle Ben. I'd never given much consideration to his parents before, so it was interesting to see the back story presented here.
Seems Peter's dad Richard was a scientist of some sort, working on cross-species genetics: splicing genes between different species to help cure diseases and disabilities. There's a break in one evening, and his office is ransacked. But Richard hid his notes well. He recovers them from their hiding spot, grabs his wife the son Peter, and flees. The next stop is Aunt May (Sally Field) and Uncle Ben (Martin Sheen), where they drop off Peter. A few tearful hugs later, and Peter's parents disappear into the rainy night.
From the point the movie follows a familiar path. We meet adolescent Parker, learn a bit about him and his relationship with his Aunt and Uncle, a love interest is introduced, as is Flash, Peter's high school nemesis. An unexpected discovery related to his father leads Peter to OsCorp and Dr. Curt Conners (Rhys Ifans), who was a research partner with the elder Parker.
While on the OsCorp campus, Peter mucks about, gains access to a restricted area, and gets bitten by a spider. It's not long after that his new powers begin to emerge. Cue discovering powers montage, making the costume montage, and some sort of montage about building web shooters that use industrial strength spider silk manufactured by OsCorp (how did he keep getting those refill canisters anyway)?
For me, this was the weakest part of the movie. I guess there's no way around seeing the new superhero discover and explore his powers, but still. This was the part that most screamed "remake"! Things begin to pick up again as Peter goes on a vigilante mission to find his Uncle's killer (and if you don't know Uncle Ben dies, then where have you been for the last 50 years?). This mission runs him afoul of the police, though to local New Yorkers, he's becoming somewhat of a hero.
Meanwhile, Peter had revealed some of his father's research (claiming it as his own) to Dr. Conners. With this new knowledge, Conners is on the cusp of a breakthrough. Pressure from Oscorp for immediate results leads Conners to human trials... on himself, the result being Lizardman, a huge and immensely powerful transformed Dr. Conners.
In his warped head space, Conners/Lizardman decides the whole city would be better off if exposed to the new formula, and he devises a plan to release it. Spidey, along with love interest Gwen Stacy (Emma Stone) and her father police Captain George Stacy (Denis Leary), set out to stop him.
For the most part, the film is very successful. That parts that aren't successful don't do too much damage, although they might require a mental shrug or two to get past. Hey, it's a movie about a guy who gets bitten by a spider and then develops spider powers. So don't complain too much if a few things like computer security and convenient coincidences seem a bit less than well thought out.
My son and I saw the 3-D version--he seems to have developed a liking for the format. I'm not sure it added to the film, but I'm willing to admit it didn't take away. There were some scenes that were probably filmed specifically for 3-D that would fall pretty flat (excuse the pun) when not seen in that format.
Overall a worthy addition to superhero films and worth seeing. If only Garfield and Stone (playing high school students here) didn't look as though they were in their mid-thirties....


Edited by Dave - Mar-17-2015 at 9:52am